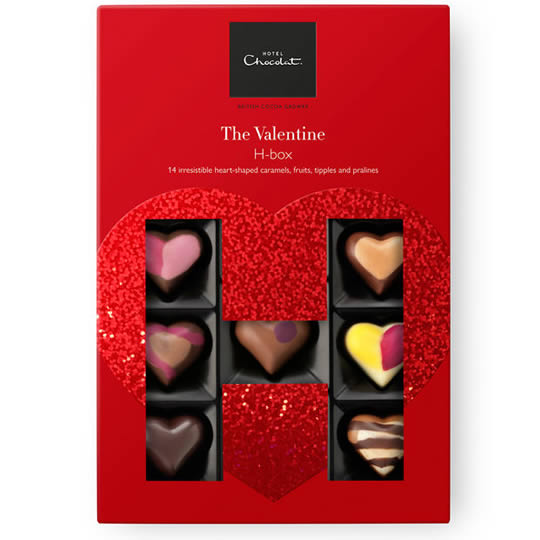 Hotel Chocolat The Valentine H-Box Chocolate Box, a box of chocolates filled with a selection of heart-shaped chocolates; caramels, fruits, tipples and pralines. A romantic chocolate gift for Valentine's Day, fourteen heart shaped chocolates with nine different flavours.
Valentine's Chocolate H-Box:
Chocolate Type: Milk, white & dark.
Flavours: passion fruit, praline, salted caramel, salted Espresso, champagne, caramel, raspberry, rose and lychee.
Types: Chocolate hearts, truffles, filled chocolates. pralines.
Number of chocolates: 14.
Weight: 150g.
Box: Rectangle, single layer.
Collection: Hotel Chocolat Valentine's Day.
Also available as the Hotel Chocolat Valentine Chocolate Sleekster the same selection of chocolate flavours but in a larger box and with more chocolates.
The Valentine H-Box:
A Valentine's Day classic, a box of chocolates filled with chocolate hearts.