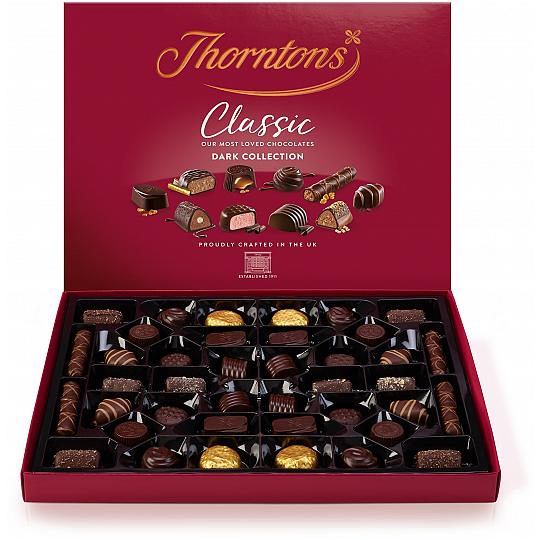 A box of chocolates from Thorntons with just the dark chocolates, from Thorntons' Classic Collection. The largest dark chocolate box in the Classic Collection offers a selection of Thorntons' most popular chocolate recipes.
Thorntons' Dark Chocolate Classics:
Chocolate Type: Dark.
Flavours: Orange Crisp, Creamy Fudge, Gooey Caramel, Crunchy Praline, Nutty Caramel, Honeycomb Baton, Strawberries Dream, Triple Chocolate, Tempting Toffee, Salted Butterscotch.
Types: truffles, solid chocolates, filled chocolates, batons.
Number of chocolates: 40.
Weight: 444g.
Box: Square, single layer.
Collection: Thorntons' Classic.
Also from Thorntons' Classic Collection is the
Thorntons' Classic Milk Collection Chocolate Box
, the same style and size box, but in milk chocolate.
Thorntons' Classic Dark Chocolates Box:
A large box of chocolate from Thorntons, featuring just dark chocolate.