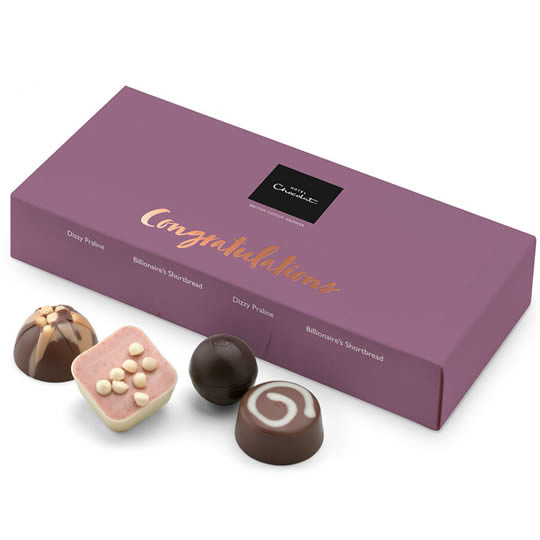 Hotel Chocolat's Congratulations Chocolate Box, a small box of chocolates to say "Congratulations".
A thoughtful box of chocolates with a message for a special occasion or event, say congratulations with the Hotel Chocolat Congratulations Message Box. Eight individual chocolates in four different flavours; Billionaire's Shortbread, Strawberry Cheesecake, Simple Dark Truffle and Dizzy Praline, a perfect chocolate gift.
Congratulations Chocolate Box:
Chocolate Type: milk, dark & white.
Types: pralines, ganaches, caramels.
Number of chocolates: 8.
Weight: 100g.
Box: Rectangle, single layer.
Collection: Hotel Chocolat Chocolate Boxes.
A message chocolate box from Hotel Chocolat.
Hotel Chocolat Congratulations Chocolate Box:
A small box of chocolates from Hotel Chocolat, containing eight chocolates with Congratulations on the top of the box.