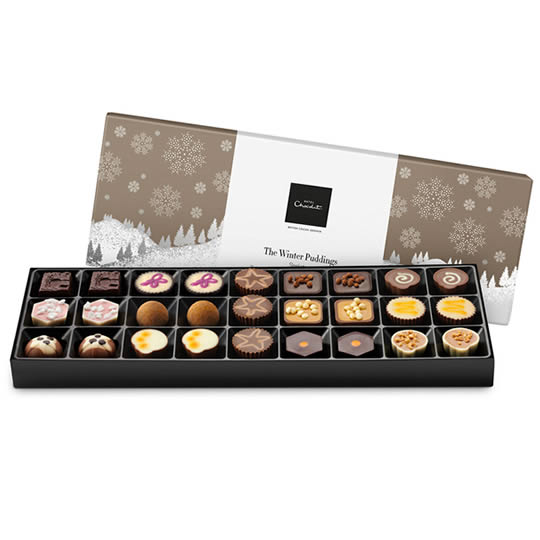 Winter Puddings Chocolate Box

A box of chocolates for winter from the Hotel Chocolat Christmas collection.

Milk, dark and white chocolates inspired and flavoured like classic puddings and presented in festive themed chocolate box.

Hotel Chocolat Winter Puddings Chocolate Box:
Chocolate Type: Milk, dark, white.
Flavours: Gooseberry Crumble, Cinnamon Buns, Christmas Mess, Caramelised Biscuit, Berry Crumble, Mince Pie Brownie, Creme Caramel, Salted Caramel Pecan Pie...
Types: truffles, pralines, filled chocolates, chocolate cups.
Number of chocolates: 27.
Weight: 340g.
Box: Rectangle, single layer.
Collection: Hotel Chocolat Christmas.
The Hotel Chocolat Chocolate Winter Puddings H-Box is a smaller version of the Winter Puddings chocolate box, with the same flavours and the Hotel Chocolat Christmas Chocolate Box is the same size but with different flavours.

£22.50


Made by Hotel Chocolat
View all Christmas Selection Boxes, Christmas Chocolate.
Similar products