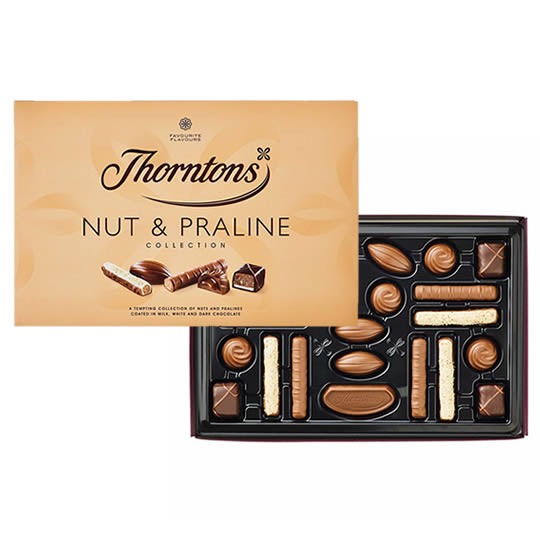 A box of chocolates for fans of nuts, nut flavours and pralines; the Thorntons Nut & Praline Collection Chocolate Box. Filled with a selection of nut chocolates coated in milk, white and dark chocolate. Flavours include Praline Duet, with its smooth hazelnut layer topped with a hazelnut and almond praline; or the elegant Nutty Caramel, a heavenly combination of smooth praline and gooey caramel encased in a silky milk chocolate swirl. Then there's the classic Milk Brazil, the two Batons of crunchy nuttiness and the smooth milk chocolate of the Thorntons Signature to cleanse the palate.
Thorntons Nut & Praline Chocolates Chocolate Box:
Chocolate Type: milk, dark and white.
Flavours: Hazelnut, Brazil nut, almond, caramel, praline.
Types: pralines, filled chocolates.
Number of chocolates: 23.
Weight: 239g.
Box: Rectangle, single layer.
Collection: Thorntons Chocolate Boxes.
You can also have the nut and praline chocolate box personalised by adding a special message,
Personalised Nut and Praline Box
, to add the personal touch if you are giving it as a gift.
Thorntons Nut & Praline Collection:
A box of chocolates from Thorntons, filled with nutty flavours and crunchy pralines.