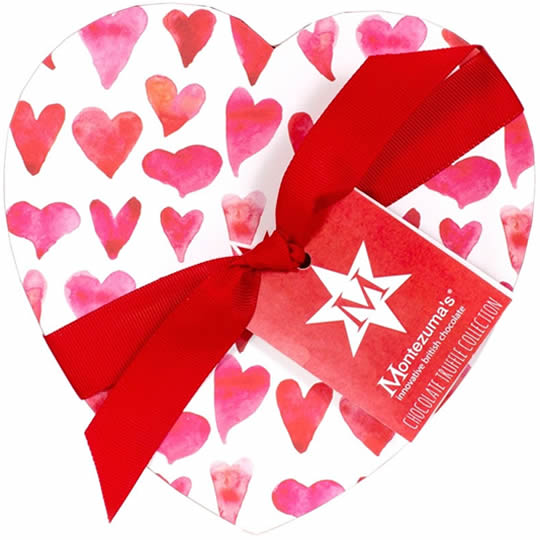 Montezuma's Chocolate Truffle Collection Valentine's Heart; a ribbon tied box of chocolate hearts, made for sharing. A white heart shaped box of chocolates decorated with red and pink hearts on the outside and hand-tied with a red ribbon. Inside are sixteen chocolate truffles in two different flavours, dark chocolate vanilla caramel and milk chocolate cherry and coconut, all shaped like chocolate hearts. A limited edition collection for Valentine's Day.
Montezuma's Valentine's Heart Truffle Collection:
Chocolate Type: Dark, milk.
Types: heart shaped chocolate truffles.
Flavours: Vanilla Caramel, Cherry & Coconut.
Number of chocolates: 16.
Weight: 144g.
Box: Heart shaped, single layer.
Collection: Montezuma's Valentine's Day.
The heart shaped chocolate truffle collection is also included in
.
Montezuma's Valentine's Chocolate Box:
Sixteen heart shaped, flavoured, chocolate truffles in milk and dark chocolate, presented in a romantic chocolate box for Valentine's Day.