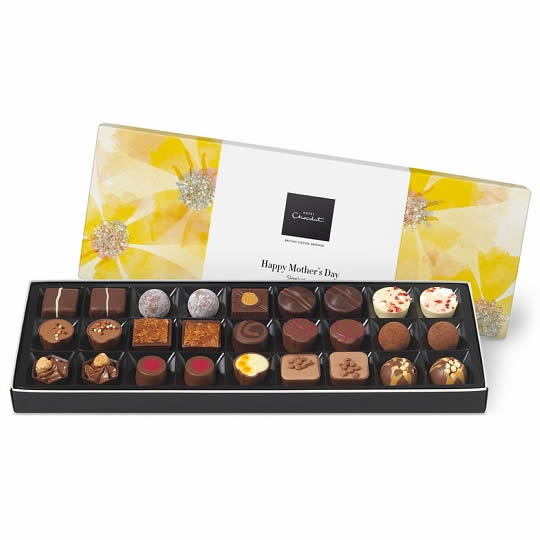 A large box of chocolates just for mum on Mothering Sunday, the Hotel Chocolat Happy Mother's Day Sleekster Chocolate Box.
A selection of milk, white and dark chocolates including Hotel Chocolat classics Champagne Truffle, Mousse au Chocolat and Billionaire's Shortbread. Alongside desserts inspired chocolates; Caramel Cheesecake, Eton Mess, Raspberry Smoothie and Fudge Sundae, to name but a few. Presented in a box decorated with yellow flowers and Happy Mother's Day on the front.
Mother's Day Chocolate Box:
Chocolate Type: Milk, white & dark.
Flavours: Cherry, strawberry, praline, caramel, champagne, peanut and raspberry.
Types: Truffles, filled chocolates, domes, pralines.
Number of chocolates: 27.
Weight: 350g.
Box: Rectangle, single layer.
Collection: Hotel Chocolat Sleeksters, Hotel Chocolat Mother's Day.
Also available as the
Hotel Chocolat Mother's Day H-Box
the same selection of chocolate flavours but in a smaller box and with fewer chocolates.