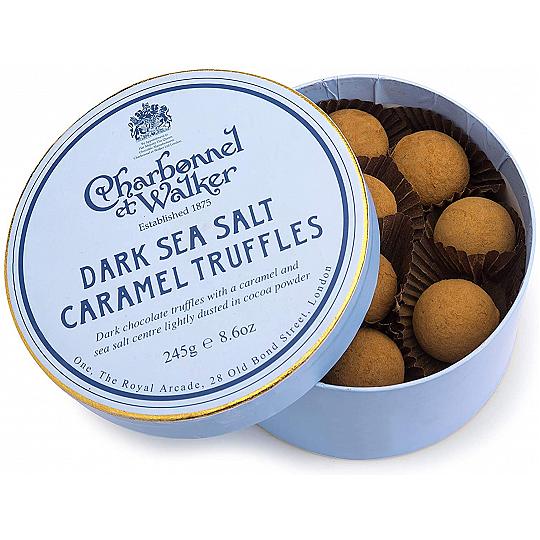 Luxurious dark chocolate truffles with liquid caramel centres, enhanced with sea salt and dusted with fine cocoa powder. Presented in a blue and gold, double layered, round chocolate box
Charbonnel et Walker's Sea Salt Dark Caramel Truffles
make a wonderful chocolate gift.
Sea Salt Dark Caramel Chocolate Truffles:
Chocolate Type: Dark.
Flavours: Sea salt, caramel.
Types: Truffles.
Number of chocolates: 20.
Weight: 240g.
Box: Round, double layer.
Also available as a
heart shaped chocolate box
, with the same pink Marc de Champagne truffles inside.
Charbonnel et Walker Sea Salt Dark Caramel Truffles:
A double layer chocolate box, filled with Charbonnel et Walker dark chocolate truffles, flavoured with sea salt and caramel.