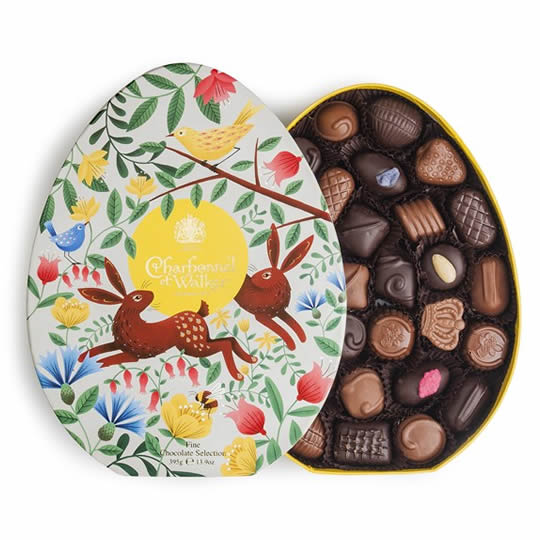 A selection of fine milk and dark chocolates presented in an Spring themed box, the Charbonnel et Walker Fine Chocolate Selection Easter Egg Shaped Chocolate Box. The beautifully illustrated box is egg shaped, for the season, and features Spring illustration with hares, birds and flowers. Inside is a selection of classic Charbonnel et Walker chocolates, a luxury assortment of typically British chocolates including chocolate creams, marzipans, truffles, fondants, caramels, fudge and many more.
Easter Egg Shaped Chocolate Box:
Chocolate Type: Milk and dark.
Flavours: Orange, lemon, strawberry, raspberry, rose, violet, vanilla.
Types: Fondants, creams, truffles, filled chocolates.
Number of chocolates: 30.
Weight: 395g.
Box: Easter Egg, single layer.
Collection: Charbonnel et Walker Easter.
Charbonnel et Walker Easter Egg Chocolate Box:
An egg shaped chocolate box from Charbonnel et Walker, for Spring and Easter.